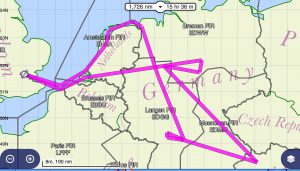 On my most recent trip I saw myself introducing a ATPL student to flying GA in Europe with its multitude of different classes of airspace that we are normally not used to in the UK. We had to chase the good weather as numerous thunderstorms were present all over the European mainland and in my usual fashion the plan changed quite a few times with most of the routes planned just prior to departure. In the end, the smiling pilot had 22 hours PIC to add to his log book and he had gained invaluable experience.
After a late start due to some fog hanging around Stapleford we finally managed to get away a few hours later than planned. I knew straight away that this would affect our plans to get to Linz in one day.
Our destination for the night was Bielefeld which meant we were able to overfly the Mohne Dam on the same route taken by 617 Sqn on their bombing run, albeit a bit higher.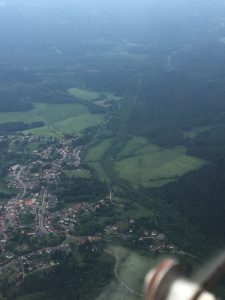 Upon arriving in Bielefeld in the late afternoon we filled the tanks back up and almost immediately took off for an evening flight. The plan was to head east towards the Harz Mountains which are situated SE of Hannover. It is a national park and is very popular with tourists for summer and winter pursuits.
One interesting feature is the The Inner German Border which separated East and West Germany during the Cold War and cuts right through the area. We went looking for signs of the border but after 29 years the death strip has started to be reclaimed by nature and was extremely hard to spot.
Read more here about the Inner German Border
We were in the area of  Mittelbau-Dora concentration camp near Nordhausen where the infamous V1 and V2 rockets were produced underground. It was a sub camp of Buchenwald.  Its main aim was to supply slave labour for the production of the rockets.
We visited the highest peak in the Harz which is the Brocken. At 3743ft it's higher than Snowdon but the lack of a sharp peak makes it just look like a large hill.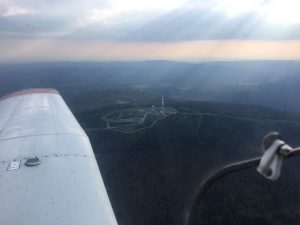 On top are modern TV transmitters but during the Cold War this was just over the border on the Eastern side and ideally situated as a listening post eavesdropping on NATO communications. After this we headed west back to Bielefeld but not before flying over the town of Hameln which was known for its Pied Piper story.
The evening flight was quiet one as the usual abundance of gliders were all on the ground and we were the only ones speaking to Langen Info. On our way back in to Bielefeld we  managed to spot the roof top bar that we would visit later that evening.
After our German breakfast of brotchen, flieshwurst & kase (bread rolls, meat slices & cheese) we headed off towards Linz on almost a direct line. The flight time was a little under 4 hours and on our route we had to make a few slight doglegs to keep clear of gliding sites and the odd restricted areas.
Upon our arrival at Linz we called for fuel when taxing to the apron and in typical Austrian efficiency the fuel truck was with us before we shut down.
The airport cafe beckoned us for some lunch and to plan the next leg. The initial plan was to fly around Austria for a few hours before stopping back at Linz for the night. However we could see some fairly menacing, huge, black clouds rolling off the Alps in our direction. We checked the live thunderstorm app, TAFs and BBC weather to see where we would be best placed for tomorrows final leg.  Schwabisch Hall, which was two hours west looked good, so after a quick phone call we were on our way again and the big black clouds would have been in our rear view mirror, if we had one.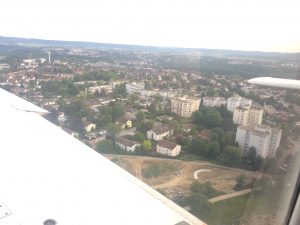 After an uneventful couple of hours we landed at what was obviously an ex military base. We were welcomed by the staff and, as they were open until 2000, we decided to get up again for another pleasant evening flight over towards Heidelberg and Stuttgart.
One of the stranger things we saw there was that some of the aircraft were kept off the airport in hangars over the main road. They would taxi back across the road, which had traffic lights of sorts and a level crossing style barriers to stop the cars. Once they taxied into the airport's main entrance the tower would then remotely open up a large gate to let them air side.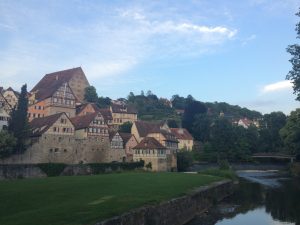 Once we managed to find a hotel  we headed straight into town for a well done beer and pizza.
I will definitely return here soon as it an interesting part of the country to fly around. It may be a good place to base myself in future while spending a few days popping over to France, Switzerland and Austria.
In the morning over breakfast we planned the final days route which was to track almost direct North towards Emden on the North Sea coast in the NW corner of Germany. The flight was very straight forward until we were denied entry into Frankfurt's eastern zone thus requiring a bit of impromptu navigating . This seems to be common place in Germany as during my last couple of trips this has happened almost every time I've asked for a transit of class D airspace.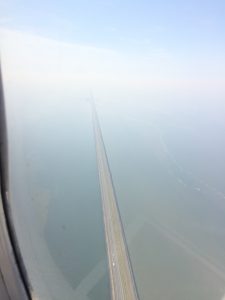 At Emden we managed to get fuelled and paid up within minutes. The final push back to Blighty was going to be an interesting one as I planned on following the Dutch Coast all the way down as far as Dunkirk. There was a massive bit of Amsterdam class A airspace that we would have to fly below 1500ft for quite a while.
We set off flying in between the coast and the Frisian Islands passing Borkum, Schiermonnikoog, Ballum and Terschellinh before having to cross to the south of  the A7 motorway causeway on the IJsselmeer as there was an active restricted area to the north of it. We were initially informed that it was not active and some in flight planning was done pretty quickly.
This route passed south of De Kooy and eventually back on to the coast where we descended to 1000ft where we would stay until Rotterdam.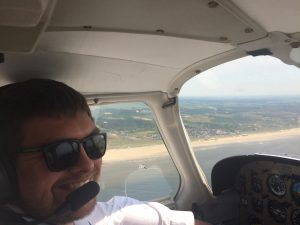 After over an hour at 1000ft and with us both getting fed up with the thermals bumping us about, we finally cleared Amsterdam class A airspace and climbed up to 50o0ft, back into the comfortable  smoothness once again.
The highlight of the final stretch back to Stapleford was taking my life jacket off as we passed over Deal. I find them so uncomfortable but I know I would rather have one on if I found myself in the drink.
As we headed over Canterbury heading for Sittingbourne we asked for a zone transit as we would just clip Southend's class D airspace and after several days of the usual European ATC it felt like hard work.
Flying around Germany enjoyable but not without its peculiarities such as lot and lots and lots of gliders.  They are very pro GA and the airfield staff are always  very efficient. PPR isn't a hassle but then again I speak the lingo which does make life easier!
James