Early morning on August 26th, two PA-28 aircraft, G-SACO & G-CFMX, departed Stapleford runway 21L for a 3 day adventure to Scotland.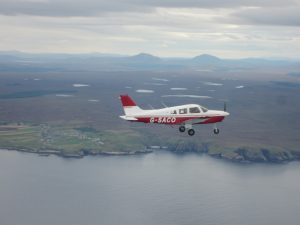 We left the circuit to the north east and followed the coast via Hull, Whitby and Newcastle, then cut across the north of England towards our first stop in Kirkbride. The weather was clear giving great views from between 3000 to 5,000 feet of the east coast, the landing at Kirkbride was straight forward and a nice ending to a warm up flight of just under 4 hours. After refuelling and a quick cup of tea, we continued North West into Scotland to our second stop on the west coast at Plockton, a quiet and scenic airfield.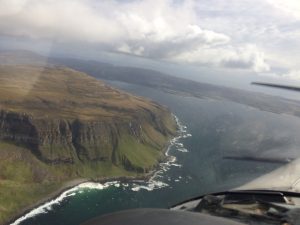 The day's last leg was a highlight, flying through the Great Glen. An awesome experience with the valley sides reaching above us and houses alongside as we flew straight down the Glen at a height of 1,000 feet above the waves. Taking us past Ben Nevis and across Loch Ness we headed over towards Inverness and out to our overnight landing stop at Easter Airfield on the East coast.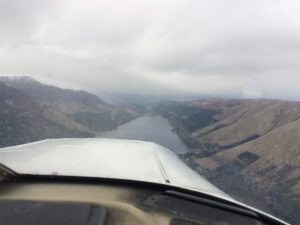 We were met on the airfield by the owner (Dave) who gave us our deluxe limousine ride (actually a cattle truck pulled by a Landover, in which we all stood in the back) to our overnight accommodation the Balintore Inn with its comfortable beds and fantastic food.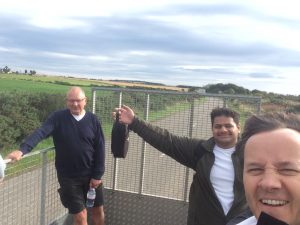 After a welcome breakfast our second day was the most testing as we flew north across the Shetland Isles and out towards the North Pole, complicated and challenging across large areas of water. We set off for a short 20 minute flight from Easter to refuel at Inverness, then departed North. The scenery below us was outstanding taking in John O Groats and numerous islands, wind farms and oyster beds all seen from above / below the clouds in perfect weather. We flew up to Unst, the most Northerly part of the UK, circled round, and then turned back down the west coast and a landing at Kirkwall for a short break. Our final long flight of the day took us out towards Cape Wrath on the North West coast, then back down south east towards Easter. As the weather forecast for last day was poor in Scotland we decided to refuel at Inverness before returning to Easter for the evening.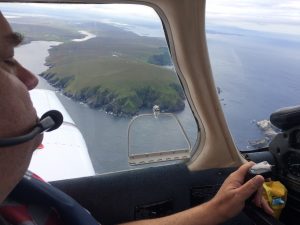 The approach to runway 24 at Easter was testing as we had to avoid 3 small cottages on short final.
We left early on 3rd day due to weather and headed south-east before cutting across to the west coast, landing for fuel at Blackpool before heading down the Welsh coast past Caernarfon and Aberystwyth. Our final leg crossed the Brecon Beacons in beautiful weather skirting London before returning to Stapleford.
Logging over 20 hours of PIC flight time over the 3 days was a great confidence boost. Stunning views, plenty of zone and MATZ transits, crossings over water practicing navigation and interesting airfields. And flying with a great group of people and meeting new people at airfields along the way has made this an experience I won't forget. Looking forward to our next trip.